Situé au cœur du quartier branché et animé de Dresde, la "Neustadt". Tous les pubs et certains clubs sont situés dans la région. Il ne faut que quelques minutes pour atteindre les magnifiques rives de l'Elbe & vous pouvez rejoindre l'impressionnante vieille ville historique & presque toutes les attractions en 20 - 30 minutes à pied ou en 10 - 15 minutes en tram. Explorez les environs de Dresde, Meissen, les châteaux Moritzburg et Pillnitz, la "Suisse saxonne", & Un beau parc national, un véritable paradis pour les randonneurs et les alpinistes.
La vieille ville avec tous les sites historiques est à 20 minutes. La destination de randonnée fantastique Suisse saxonne est facile d'accès en S-Bahn en environ 50 minutes. Neustadt est toujours la zone la plus animée de Dresde, avec de nombreux pubs, bars, vie de rue et street art.
nothing really
It's well located; has a very friendly staff (which recommended us a good german home made food restaurant), and have clean and comfortable rooms etc.
Super
The kitchen and Pub inside.
Awesome location, helpful and kind staff.
Very good to know Dresden
This hostel is a credit to the city if Dresden. It is unusually but beautifully decorated with an astrological disco theme. The bedrooms are spacious comfortable and cool. The kitchens are well equipped with good seating and pleasent common rooms. It's location while out of the old city doesn't matter because it is one of the coolest locations I've ever come across. Loads of bars restaurants cafés and shops with their own unique style. Try curry and co over the road if your a vege/vegan.
Great clean hostel. Really secure, cool atmosphere, would stay again :)
Pretty good location, only a short walk away from everything you need. Great kitchen - most hostels that have a restaurant don't have a kitchen so it was really cool this one did! One of the staff went out of her way to help me find something in town, giving me a map witha few diferent options, even giving me an idea of price range. Very helpful!!
Excellent location, great facilities, well maintained and clean, nice bar area and friendly helpful staff. Excellent value for money.
Helpful staff. Plenty of restaurants and bars in the area
- Clean room and bathroom - helpful staff
Very friendly, great location in the city!
Great location right in the heart of the real modern Dresden but not far from the old town too.
Location
-Everything was as stated -Near cheap cleaning machines, shops, bars and restaurants -A short walk/ride away from the altstadt -Good for meeting other travelers.
Staff helpful.
Cool location in a very vibrant, young and interesting part of Dresden with a lot of little alternative shops, restaurants and bars in the neighbourhood. There is also a bar/café at the ground floor of the hostel which is very nice to hang out.
Clean and good location
Night watcher on corridor damits not too loud, sanitary facilities new and clean, very central right in the high life, very friendly staff, nice cafe in the house with delicious breakfast.
Nice spacious room. Cool location in the fun part of town. Friendly, helpful staff
Location
Clean and near lots of restraints and clubs
Everything except of the location.
nice and cozy.
Bunk beds are a good size, dorms are warm, kitchen facilities were good, and a good location.
Amazing friendly staff who offered great advice with places to go, things to see, restaurants to eat at. They went out of there way to be helpful! Superb location in the very centre of the old town. Very safe, front door, room and locker keys, staff at reception 24 hrs per day. Buzzing atmosphere with great couches, free internet computers, travel books, kitchen, clean showers and toilets and washing facilities Offered towels, washing machine use, free breakfast, free bag storage, free earplugs. Great value for money!! Very cheap and includes free breakfast!!!
The atmosphere was amazing, great place to meet people who are willing to go out and have some fun. Not strictly party, very chill. Staff was very helpful and friendly. Bikes aren't the best, but they are free and get the job done. Dresden itself is a beautiful city, and the character of the city is well reflected at Lollis.
The hostel has really quirky decor which was the best part about staying here, I really enjoyed the common areas and even the rooms are very interesting. The staff are friendly. Wifi is good, beds are wooden framed and comfortable.
Very cute, nice atmosphere, very clean.
The staff are superb, they could not be more helpful if they tried! Comfy beds, the place is clean, the events put on in the evenings are more than other hostels I've visited have offered. Late checkout (until midday) is a nice touch too. This is a great hostel. Stay there.
free dinner on sunday was very nice and delicious, the location was amazing! thanks
Really cool atmosphere in this hostel. Big enough to cook in their wonderful kitchen, but open enough to meet other travelers as well. Very helpful and nice staff, very secure. They have theme nights most every night and are in the fun and young part of town.
Located in a great part of town, with tons of restaurants, bars and shops nearby. Friendly staff. Well equipped kitchen, and bathrooms were decent. Great hostel to stay at.
Lots of character and made it very easy to meet new people in their kitchen and laptop free common area. Was a littld bit of a hikd to the old town butit was situated in a good nightlife and eating out area so that was fine.
Great hostel, good staff, and nice, well-equipped rooms. And two men's AND women's bathrooms on each floor, including two showers for each. Awesome. And free bike rentals, and the occasional free meal, along with a very social atmosphere.
Cool location and helpful staff.
Classic backpackers hostel. Everyone was very laid back and friendly, but the service was still good. The common area was the perfect place to hang out and meet people.
the map offered is good
Staff is very friendly and there are daily activities at the hostel that makes it a very social environment.
Great location and atmosphere
I really loved the common room space, and the free dinner on Sunday night was delicious and a wonderful way to meet others at the hostel.
Very friendly and helpful staff, felt very safe.
The People are very friendly!
It was absolutely amazing. Everything I wanted in a hostel, very home-like with like minded travelers, everyone was very social and friendly. Every night there was something new on offer, we got free german lessons one night and the next we got a really good free dinner. The location was great, close enough to walk anywhere, but in a less tourist heavy part. The local bars and cafés were all quality and chill.
Nice decor and atmosphere! Great location.
Great location and overall just a super cool place to stay.
Very friendly staff with a lot of good local advice, well designed spaces for socialising and free meals on Sundays and Wednesdays making it easy to meet people. Every room seemed to be unique and had a lot of character. Generally just an excellent hostel
Very homey feel with super helpful staff. Amazing location.
Felt very safe, close to nightlife, lively and friendly guests
This has been my favorite hostel so far. The character of the rooms and decorations was awesome. I highly recommend going on the night walking tour! It was so fun, a great way to learn about the art district and meet your fellow travelers. A few of us ended up staying out until 5 in the morning. Definitely a memorable night.
The little extra bonuses that Lollis Homestay offers swayed me into choosing them over other hostels in Dresden--and I was not disappointed! There is major coziness about this place and a real sense of community--so much so that former guests/employees often visit Lollis just to hang out because they like the place so much!! The free dinners & BBQ are great fun & another good way to meet other people there. The staff are great, caring, & helpful. For example, when I first checked in, the receptionist Sven chatted with me as if I were an old friend from long ago. That made me feel instantly welcome there! The location is in a very hip area with plenty of counter-culture.
L'A & O Dresden se trouve à seulement 400 mètres de la gare centrale de Dresde, à seulement deux arrêts bus. Grâce à emplacement central, l'auberge esr bien desservie, aussi adaptée pour ceux qui viennent en voiture, en train ou en bus, et idéale pour des excursions dans la ville.
This hostel is nice and big. Good atmosphere and in the center of Dresden
Good choice
comfortable complete beautiful view clean
The buffet breakfast was very good. In 3 nights in a 4-bed room I was allowed to have the room alone one night, with just one other person another night and with 2 others on the third night.
10min from the train station
good location
Helpful staff. Location is close to the train station and the trams.
clean, basic, and cheap
Free luggage storage. Location...close to train station and pretty close to center.
Close to Dresden Main Station and City Center. Good value for money. Spacious rooms.
One night for sightseeing
the above
The hostel is close to the train station. WIFI in the lobby for free. good lockers. It's clean. All in all, it was good. There is a bar on the top floor.
It was clean and the rooms were quite large.
Especially helpfulness of the staff and location.
Sky bar on top floor was good. Private rooms large enough, clean, value for money. Quiet enough 5 euro cocktail happy hour worth it.
Close to main station but far from main attractions
Good location, quiet, professional
Modern facilities. Well signed if you come from the main train station. Supermarket very close. Good atmosphere.
Near to Hbf but not seems very near to city area
Helpful staff, great location very near the station. There was no noise from outside or other guests.
the room is pretty big and they offer many chairs and desks for different travellers to use.
Helpful staff, nice bar, easy to find, free wi-fi.
We stayed in a double room with private bathroom. The room was very clean and the location fantastic as we were only staying a night and the bus stop is 5min walk away.
Great location, very friendly staff at reception
Cleanliness
The receptionist working the night shift - he was really nice.
Very close to the Hbf. Clean, approachable hostel.
The single room was clean and nice, the staff helpful and nice. Location was pretty good,.
Good food. helpful staff.
Hostels
L'Hostel & Pension NOlift est une maison d'hôtes rénovée située en plein centre-ville de Dresde, dans le quartier de Löbtau. Elle vous propose des chambres spacieuses et fonctionnelles. Sa réception est ouverte 24h/24.
Hostels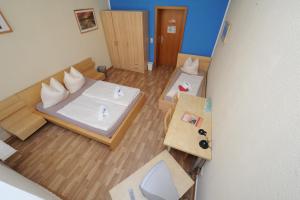 À 5 minutes à pied du fleuve Elbe et à 10 minutes de tramway du centre-ville de Dresde, cette maison d'hôtes propose des chambres modernes, non-fumeurs et équipées de la connexion Wi-Fi gratuite, ainsi qu'un petit-déjeuner buffet.
Hostels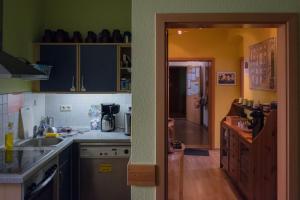 L'Hostel Louise 20 est une auberge de jeunesse accueillante et confortable située au cœur du quartier des pubs de Dresde-Neustadt, près du centre historique de la ville. Une connexion Wi-Fi est disponible gratuitement dans les parties communes.
Hostels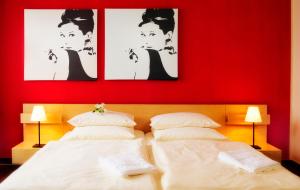 Boasting a central location in Dresden's Old Town with free WiFi access, this hotel/hostel is an excellent choice for all travellers. The Cityherberge offers a range of room sizes and categories, depending on budget and level of comfort.
Hostels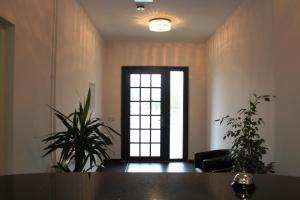 L'auberge de jeunesse Elbe's Hotel Dresden bénéficie d'une situation centrale à Dresde, à seulement 500 mètres de la gare de Dresde-Neustadt.
Propiétaires et gérants
Enregistrez maintenant votre auberge sur notre nouveau Extranet.