Nous sommes à quelques pas de la gare de Southern Cross, ce qui signifie que nous sommes très proches des cafés, restaurants et bars de Laneway Graffiti, Eureka Skydeck, 88 Federation Square et Melbourne Cricket Ground - tant de choses à voir!
En ce qui concerne l'emplacement de l'hébergement Melbourne Backpackers, ce n'est pas un secret, le nôtre est le meilleur! Faites de United Backpackers votre maison et séjournez juste en face de la célèbre gare de Flinders Street, à 50 mètres du célèbre monument de Federation Square et à seulement une minute de marche de la magnifique rivière Yarra. Vous ne pourriez pas être plus central! Nous venons également de nous trouver sur la ruelle la plus amusante et la plus animée de Melbourne, Degraves Street!
Good location and very clean. Shower facilities are brilliant!
close to docklands
Security and small dorms
It was clean, comfortable, easy access to tram lines and a short walk to Southbank. Staff were friendly and the showers were absolutely wonderful.
I really like the new renovations done by Melbourne Central hostel. The downstairs entry has improved a lot. The hostel also has a great location of course. You save on a taxi fare from the airport by being across from the skybus and on tram fares by being within the free tram zone.
Nice clear facilities, well organised, close to transport links
good
Very clean, looked really new, secure, quiet and comfy beds
It was quiet, the kitchen was clean and there was enough space to cook easily. The location is very convenient. The rooms were spacious and quiet. I asked for an extra pillow and got one so slept very well. The bathrooms are the nicest I've seen so far in a hostel.
Clean bathroom ,kitchen and bedroom
Location
location wood good, staff Very helpfull with any request
Ideally & centrally located to CBD and public transport. Clean and safe!
Immaculate, very secure, modern, clean and even a rooftop bbq.
This was my first hostel I've ever stayed at so I was a little nervous but it was very clean, central location, helpful staff. Could not fault it at all. Would stay again.
Safe, secure, clean and very central to most of Melbourne. I was impressed with the rooftop balcony and the staff are mostly accomodating offering to help find places to see and go.
The location was really convenient for exploring the city.
Centrally located, close to everything. Great value for money. Rooms and bathrooms were clean. Would defiantly stay again
good location, friendly staff, nice kitchen
Location
Clean, nice hostel
The location is perfect, especially if you attend an event in Melbourne (Australian Open for example). It's the first time that I sleep very well in a hostel because it's quiet.
Clean and central location which is easy walking distance to Federation Square + Library for the free internet there. Easy to get to by following these directions
Very strategies location.
Free tram stop outside There was a desk & chair in room.
I would add mirrors in the hall and more bathrooms, that's all, hostel is good)) thank you!!
The location is top notch and gets u in the thick of Melbourne city with so much to do in the area! It was clean and the staff were very friendly and helpful! Only complaint would be no aircon, but I was there on the hottest days so I imagine anywhere would be sweaty and sticky with or without aircon.
Le Nomads St Kilda Beach est situé au cœur de St Kilda, à seulement quelques minutes à pied de la plage, des restaurants et des magasins. Arrêt de tramway: 96, 16 & 3 / 3a juste à notre porte, ce qui permet à chacun d'accéder plus facilement à la CDB (croix sud).
Situé dans un bâtiment historique du début du XXe siècle, le All Nations Backpackers se trouve au cœur de Melbourne, à quelques minutes de marche de la gare Southern Cross et offrant un accès facile à tous les sites touristiques de la ville.
the people and the atmosphere make it amazing. Kitchen could do with a revamp but other than that... the staff more than make up for it. Michael, Hannah, Riccardo and Dave were all more than helpful, literally out of their way to welcome and make you feel loved.
The immediate feeling of being relaxed when I arrived. As a solo traveller it can be uneasy arriving alone but the friendly staff welcomed me. Especially Meg on reception. The sense of community is really strong and everyone is super friendly. There are renovations taking place which is ace as the bathroom has underfloor heating.
Good location, friendly staff!
People, very helpful staff, free pasta and rice!!
Very cheap, centrally located and staff very friendly and helpful
Good fun.
free Wifi in the common areas, free pasta and rice
Near southern cross station.
nothing
Amazing amount of free stuff (including wifi) in the kitchen and events at the bar, super helpful reception staff, clean room, friendly atmosphere , really convenient location just off Flinders Street and Collins Street, and near Coles.
Location strategic
It is in a good location
Location, the people
Nothing
All good
Communal areas
Nice house and In the central
The beds and bed linen are nice, the staff are so helpful and friendly. We stayed in a twelve bed dorm and it was so big , loads of space.
It was cleaner than I thought and also location was nice.
Location
good atmosphere, lively, great location
Close to the train station and to the city centre
The staff at ubar were lovely! The bed was super comfy, it is right next to tram connections and is walking distance to most things you need.
Bar downstairs to meet people with discounted drinks. Welcome drink on arrival with newbies.
Clean bathrooms
Good location, near Southern Cross station, not far from the city and a tram stop just in front of the hostel.
Nothing. It was pretty grim. It had potential but looked like it needed completely revamping.
Notre St Kilda Backpackers est situé à un court trajet en tramway du centre-ville de Melbourne et au cœur des cafés, restaurants, bars et boutiques de St Kildas. Les célèbres Acland et Fitzroy St sont à seulement une minute à pied. Venez découvrir nos superbes installations et passez du temps avec le personnel amical de notre auberge de St Kilda.
boff
I loved how funky and modern everything was and especially how close it was to all the awesome bars & pubs
Loved the bar downstairs with the offers and games.
Ah base....the premier backpackers in this country. Sure it costs a little more but you get so much more than other hostels, the people that tend to stay here are almost normal (compared to other hostels). Plenty of activities on hand and very convenient to the 96 tram.
Great great great girls rooms called the sanctuary xxx
Modern, Friendly people and staff, clean and good activities on offer.
Location and staff. I had a really friendly welcome from the reception staff, they were helpful if ever I had any questions and they kindly booked me a taxi when I checked out.
Fun and friendly vibe! There's always something going on and the rooms are clean and nice!
The welcome from the staff was amazing, even for 9am...they are ways smiling an always willing to help. Everytime you pass reception, or a member of the team they are sure to say hello, or ask you how you are! The rooms are standard hostel room, although this is the only hostel that I have stayed in during my travels that has an en-suite (obviously shared between those in the room). Perfect location, juš around the corner from the busy high street of St.Kilda and ot a 10 minute tram into the city! Cheap, decent bar with nightly offers and a chill out room where you're able to cook & do your washing! Best Base yet!
The facilities were clean and the room large enough (I was in the All Girls Sanctuary room) and the location ideal. Cleaning staff were very polite and did a good job. Frequent cleaning of the room's shower room. Lockable locker drawers under the bunk beds.
Great staff!! Fun bAr downstairs. Loved the girls sanctuary dorms.
Quite a big room Fairly decent shower Good bar area Good location Can drink alcohol in TV/kitchen room till 8pm
Close to the beach, very friendly staff.
No
Friendly, staff were all nice and approachable
There was so much going on at the hostel, everyday and night there was something to do and an opportunity to meet new people or try new things! All the staff are really friendly, happy to help and as majority stayed at hostel themselves have great knowledge of area and what to do depending on budget/what you're looking for. Monday Bingo, free hotdogs, free yoga, running club and yours of Melbourne... What's not to love!
Facilities, location and easy to ge ge friends there.
fun, friendly place. great atmosphere and good activities each night lots of fun and great place to meet new people
All "normal" hotels were booked out, so I gave the XBase Hostel a try. If you want to stay in St Kilda (beach), it´s a good location. However, it is a hostel with a bar at ground floor, so it´s packed, dirty and just a straightforward hostel. If you are for a hostel with a nice location and good nightlife, go for it. Note: It is not very noisy in the room due to the bar, you can not hear people partying downstairs. Easy to meet people.
Very friendly atmosphere and easy to meet people. Spacious rooms, I stayed in an 8 bed dorm and had a private bathroom, loved the huge lockers under the bed.
The staff were really friendly, helpful and welcoming and so were some of the other guests. The property is close to public transport into the city and there are quite a few activities you can do locally. They have security at the door every night to keep the rabble out. The best cake shops in Melbourne are located on Acland Street just around the corner. There is a 15-20km walk / bike track along the foreshore that you can easily access which is fanstastic and BASE has a couple of bikes you can hire for the day for a good price. The breakfast was really good value for $5 all you can eat and some of the nightly communal meals were also quite good. The Bingo and Quiz shows are a lot of fun. Overall, this is a pretty well run establishment.
Its location is great.. very close to St Kilda Beach.
Plenty to do!
ambience
Location
Staff were friendly, cant fault them and the location is great.
Hostels
Doté d'un salon de cinéma et d'un toit-terrasse bien exposé, le Nomads Melbourne Backpackers se trouve dans le quartier central des affaires de Melbourne, à seulement 2 minutes de marche du marché Queen Victoria.
Hostels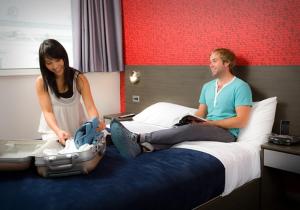 Space Hotel is where luxury meets budget.With a state of the art kitchen, fitness space, movie space and a spectacular rooftop area with Jacuzzi we have plenty of facilities to keep you entertained when you're not of exploring Melbourne.
Hostels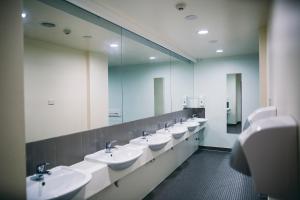 The people and service is what makes our property special. We have large communal areas and nightly entertainment.
Propiétaires et gérants
Enregistrez maintenant votre auberge sur notre nouveau Extranet.