L'auberge est située au coeur de San Francisco! Seulement 0,4 miles de Union Square, 0,6 miles de Market Street et 2 miles de Pier 39.
Nous sommes à 4,5 miles de l'aéroport international de San Francisco. Nous sommes situés à 8 minutes de l'aéroport de San Francisco et à seulement 15 minutes du centre-ville de San Francisco. Il y a un centre commercial à distance de marche et de nombreux restaurants, épiceries et fast-foods.
Amazing!
Thats a good place to stay for few days in SF
Friendly staff / Very nice place close to everything
Good location, excellent treatment, good breakfast. The room a little dark
Nothing
The Staff were friendly & super helpful. The dorms were comfortable with enough space. The lockers were large with safe charging points. The kitchen & common room had excellent facilities. The included breakfast had great variety & delicious. There was always showers & toilets available for use. The leaflets to tourist attractions were so helpful & readily available. The hostel is in a prime location & is by far one of the best hostels I've stayed in. Thank you
Helpful staff and a great selection of activities. The free yoga was especially good.
really clean and everybody is friendly pancakes in the morning activities the hostel offeres
The hostel was great and suited me for a few days.
Location is good and staff are motivated and helpful
There are many things to like/love about this hostel. First, The staff is amazing and interacts a lot with the guests. Second, there are daily nightly activities that facilitate meeting other people. If drinking and meeting people simultaneously is not your thing, there are a number of day activities as well such as walking tours or biking across the Golden Gate bridge that provide a good alternative and are an excellent way of getting a grasp of the city. Third, the location is pretty good. Don't bother trying to stay in the Mission district because it is supposed to be cool. Rent a bike and go there yourself, or take the bus, or the BART. The nice thing about this USA Hostels is that it is convenient to go pretty much everywhere in the city! Loved my stay, will definitely visit again. PS: Very safe (lockers and you can buy a lock at the reception) and clean (daily cleaning). PPS: Plenty of food nearby as well. Go to 'honey honey' on the corner of Post and Taylor for any meal, or to Pearl's across the street for an amazing burger.
It's very clean and they offer free luggage storage.
Really clean, good breakfast
Location was perfect, hostel was very clean, great nighttime events and daytime organised, staff were very helpful. No faults.
Friendly staff. Clean.
Good location and good secure rooms
Friendly staff, lots of activities
Breakfast was great, rooms and toilets were clean daily.
clean, free breakfast, good facilities
Great hostel which goes out of its way to provide fantastic social activities and tours of the city at a discounted rate. Also had a free drinks night in the social area which was great as a solo traveller to meet people. Breakfast was also good as were the other facilities. Rooms also had loads of plug sockets and beds were clean and comfortable.
The kitchen is great and fully equipped.
all good
Very helpful clean great amenities lots of extras
The rooms were nice and clean and long beds which is great considering I'm rather tall. Also the walking tour by Brian was awesome! Showed me so much about San Fran I had never known or thought about!
In the world of hostels, this is KING. You're staying in a hostel, not a hotel, so you know what to expect. But this is a really good hostel. Ok, the bathrooms are clean and plentiful - I didn't have to wait for a shower once. The toilets, sinks and showers are often separate, so you're not having to wait for someone to finish all their ablutions. There are soap dispensers, so don't worry about that; and you get given a towel on check-in with no extra charge. The rooms are mostly 4 bed dorms; so not too much noise. That said, there are free earplugs at reception. Sheets are also included at no extra charge. The beds all have a socket, 2 charging USB ports and a light. There are lockers in the rooms too (bring a decent lock) and even they have two sockets inside so you can leave stuff on charge whilst you're out. Free WiFi is included. Breakfast downstairs is until 10am and it's included, no extra charge. You get bread (including cinnamon fruit loaf), muffins (sometimes) and bagels with butter, jams and soft cheese. You get fruit, fruit juice, teas and coffees (good selection of teas). They even have pancake mix, griddles and syrup. It's good. The kitchen is VERY good for your own cooking needs as well They have laundry and vending machines as well as shared use computers - I didn't use these so can't comment on them. The hostel is really well organised too - they have some sort of social event every evening to get you introduced to each other which is really good. They have shuttle buses to the airport, and lots free maps and other San Fran info. I stayed in April; so can't comment on either air-con or heating. I also cannot comment on accessibility features, though from my recall there were steps at the front. There may be disabled access or other accessibility features of which I am not aware. It is about a 5 minute walk to/from the F-car stops, to the buses, to the Muni subway and the BART system (direct from the airport) on Market Street. It is about a 10 minute ride on the F-car to either the Ferry building on the Embarcardero, or to the Castro areas.
Staff were super nice, helpful and motivated. Hostel organised free activities etc to meet others e.g. walking tour drinks night, pasta night, karaoke night, pub crawls etc. Other reviews suggest the breakfast is plain, but I thought it was quite good for what it was - not what you would expect for a hotel buffet, but quite good for a hostel. Really liked the cream cheese they served, also provided hazelnut and english toffee syrups to add to your coffees and nice teabags, earplugs, sheets and towels. Took the walking tour with Brian and he provided a good basis for exploring the rest of the city. Brian was great and shared extra local knowledge during the tour.
Everything close and staff and facilities top rate
The Hostel was very clean and well equiped with good lockers, good showers and a great community area (especially the cinema with netflix looks for challengers here)
It has good facilities
Couldn't have asked for a more convenient and accommodating place to "crash". Had to drop my friend off at airport around 4 am and this made that situation very easy. People were super friendly and flexible. Clean bathrooms and provided super comfy blankets, pillows, mattress, ect. Only recommendation would be that there should be a volume/time expectation for noise. Someone was watching netflix at like 2:30 am on a projector. Other than that, I would 100% recommend this spot to anyone!
Overall it was a great experience. Staff and other guests were very friendly, well located, safe area. Its an interesting set up because is in a suburban neighborhood and in a regular looking house so its easy to miss from the outside. Great value for the money especially compared to other options in the area.
Ces informations sur les transports publics pourraient vous être utiles si vous arrivez de l'aéroport de l'OFS : Veuillez cliquer sur ce lien google maps pour planifier votre itinéraire de l'aéroport à l'auberge. Les transports en commun vont jusqu'à minuit. https://goo.gl/maps/2t5Qj Le train BART coûtera environ 8,50 $. Descendez à la station CIVIC CENTER. L'autobus #292 coûtera environ 2,75 $ - 4,00 $ Descendre à Mission et à la 9e Rue. Les navettes de l'aéroport coûteront environ 15-20 $, en attente à l'extérieur de l'aéroport, aucune réservation préalable n'est nécessaire.
Nous sommes à seulement 5 pâtés de maisons de la station de Montgomery BART (métro), à un pâté de maisons de Chinatown et à quelques pâtés de maisons de North Beach (Little Italy). Nous avons beaucoup de cafés, bars, restaurants, magasins, vous le nommez à quelques minutes de nous. Nous sommes dans un quartier très sûr de la ville.
This is the second hostel I've been in San Francisco. The first one was wonderful but this one was horrible. It was dirty and sticky everywhere, the kitchen, the bathroom, the door handles... And as a girl traveling alone I wasn't feeling safe, the atmosphere was very different from my first hostel. I was supposed to stay for 4 nights but I decided to leave after my first night there. The employee who worked there the day I left was nice though.
Basic and cheap. Friendly staff. Working hot shower. Clean bed. Close to Public Transpo. So, if you're looking for a place to sleep and shower, this is a good place.
Could have been better. Stayed for a night. The bed was clean, the room was alright, but the staff were nice, so its ok.
I loved staying at Pacific Tradewinds Hostel! We make friends easily because the atmosphere is very nice, it feels safe even for a girl traveling alone, which is not the case in all hostels in San Francisco ... Cleaning is done very regularly, it is well placed (between Chinatown and the Financial District), practical (except perhaps the floors to climb but I always found someone to help me with my suitcase!) It feels like home fast. You can even have peanut butter and ramen for free in the kitchen! The storage for the bags under the beds are really practical, a shower towel is at your disposal. The people who work there are all very nice and caring. I highly recommend !
I loved spending a few days at the Pacific Tradewinds Hostel, everyone was lovely with me, I had great meetings, the atmosphere is super nice, and safe even for a girl traveling alone! It is well placed, clean, nice. I felt so good that I was sad to leave this place! I highly recommend !
très bien. Très bon accueil convivial bien placé. Propre. Bien située. Par contre chambre un peu petites. A noter la présence d une salle de bains pour personnes handicapées mais pas d ascenseur...
Very attentive staff, facilities for any questions, good vibes, accessibility to all areas, well located and respectful environment
I recommend this place. The people who work laba are really friendly. The place is clean and really well located. It is possible to use the computer, printer, board games and free wifi. It also has bread, peanut butter and free coffee.
Staff is great and welcomes you. Clean. it is close to the Embarcadero, Montgomery Street, Muni/Bart station and China town.
This hostel is well located in San Francisco. I felt safe.
À 8 minutes à pied de la très branchée Union Square de San Francisco, dans le centre de San Francisco. Chinatown est à 13 minutes à pied, tandis que le lieu de divertissement The Masonic est à seulement 5 minutes à pied. Musée du téléphérique, téléphériques de San Francisco, théâtre du Conservatoire américain à moins de 1 km. Alcatraz est à 4 km et le pont du Golden Gate à 6 km. Aéroport international d'Oakland - 18,4 km. De nombreux bars, cafés, restaurants, magasins, marchés et supermarchés sont à proximité.
Very correct hostel
decevant
Location
Friendly staff and nice facilities.
The hostel is clean, on a good location and affordable. It is big, with a lot of travelers, younger and older crowd. They offer kitchen but only for breakfast in the morning (free pancakes self service). Good vibe, liked it.
They let me check in to the noisiest room
Big lockers, ensuite bathroom
Staying at Amsterdam hostel was pretty nice. Just few blocks away from union square. Walking to piers or event to fishermens wharf takes no more than 20 minutes. For breakfast you can have as many pancakes as you want. As long as you can make them on you own.
Very good value for money
Friendly Receptionist
Fridge, microwave, stoves to use, but "only" from 7am-10pm computers available, good wifi
The location is really good. You can go to a lot of the tourist places by walking or renting a bike. The neighborhood is quiet.
close 2 my best friends Apt!!!
The room is very nice than I thought.
Nice TV room, computers room, kitchen.
Location and price
location and cheap price could not be faulted. one member of staff was particularly helpful.
I think this property was located in relatively central location. Also, it was a secure facility where only guests could enter.
The cheapest hostel with the best experience
It is well maintained and very clean
The management worked with me in terms of negotiating a barter for the key deposit. He was GREAT! His underling, however, was rude, crass, and offensive! And if you need a CHEAP place to stay, then this is your place.
For the price, its pretty good, great location and a good mix of people. The staff were helpful and friendly too.
Location. Nice atmosphere.
The 6 bunk shared dorm room is spacious enough when full and the bathroom was clean. Mattresses were comfortable for a hostel. Well equipped kitchen with pancake batter in the morning ready for you to make your own. Location was great for wandering close to Chinatown. Staff were helpful enough.
Good location with very friendly and helpful staff.
Location!
good location friendly stuff free pancakes for breakfast
Cheap and fairly central
Excellent location for exploring the city.staff were very helpfull and the rooms were very clean and comfortable.
Hostels
L'Amsterdam Hostel est idéalement situé dans le centre de San Francisco, à seulement 8 minutes à pied du quartier à la mode d'Union Square et à 13 minutes de marche de Chinatown.
Hostels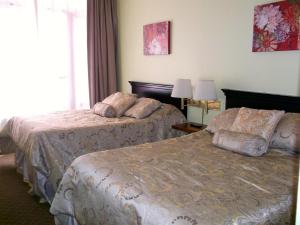 Cette auberge de jeunesse de San Francisco est idéalement située, à 5 minutes à pied de l'Union Square. Pour le petit-déjeuner, des bagels, des fruits, du café, et plus encore, seront servis. Chaque chambre est dotée d'une connexion Wi-Fi gratuite.
Hostels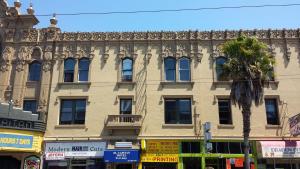 Située dans le quartier Mission District de San Francisco, cette auberge de jeunesse propose des hébergements de style dortoir, dotés d'une connexion Wi-Fi gratuite.
Propiétaires et gérants
Enregistrez maintenant votre auberge sur notre nouveau Extranet.