L'église noire et la place de la Councile sont à 200 m. Le parc Nicolae Titulescu peut être atteint à moins de 400 m. Le château de Bran, également connu sous le nom de château de Dracula, se trouve à une distance de 27 km du JugendStube. Un téléphérique menant à Tampa Mountain est à 1,6 km. Une vue panoramique de Brasov peut être appréciée du sommet de la montagne. En général, il y a des visites quotidiennes à la forteresse de Rasnov, au château de Bran, au château de Peles et au sanctuaire de l'ours, organisées par les compagnies de transport.
Parmi les sites d'intérêt à proximité de la villa, vous trouverez la place du Conseil, le parc d'aventures de Braşov et le parc d'attractions Paradisul Acvatic.
Relaxed atmosphere and good common facilities. Clean and well equipped room with a private bathroom.
Couldn't have asked for a better action, and the guy who worked the desk was amazing! Gave great recommendations for food, sights/towns to see, and helped us out with train schedules.
The staff were really friendly and helpful with anything we needed. It was in a good location in the old town with easy access to buses if we needed them.
Location was excellent
Good location, nice atmosphere, clean and newly rennovated and computers for public use.
Minimalistic and functional.
central location - right in the heart of the city.
location and communication.
Clean, nice place, nice breakfast, nice wifi, nice location, nice bathroom
The staff is always available and friendly, useful maps of the city were provided without even asking for them, along with useful tips. the location is perfect, the place is always clean and welcoming. I'm definitely going back there on my next trip to Brasov.
Everything was amazing , very clean , near everything the Hostel , stuff was more that helpful :) , the Internet very high speed , everywhere even the rooms , loopy , and outside also :)
The hostel is placed quite centrally and the staff was really helpful.
Lobby area and main dormitories were clean and modern. The guy working there was very helpful with organising a driver to take us to see the main sights in Transylvania and advice on buses/trains to other parts of Romainia. We stayed in the double private room and it is actually a self-contained apartment accross the driveway of the main hostel. Was very nice to have our own double bed and bathroom.
clean, central location
Nice place to saty in Rasnov. Close to everything.
Excellent location, cozy hostel, easy to meet fellow travellers.
Weenjoyed the central location. Outside the door were restuarants and sites were within easy walking distance.
The staff was very friendly. The location is right in the old town, 5 minutes from the city-busses terminal. They offer you a good breakfast, which is always appreciated. Very clean and functional.
there is breakfast available
Good location, easy to find, and the reception staff were welcoming and friendly. Helpful advice about getting to Bran Castle, which is very do-able yourself.
Small, cozy hostel, easy to meet other travelers.
The place and the staff were very nice
Excellent hostel!
Very good hostel, absolutely clean, friendly and helpful staff. The location was excellent, in the middle of the city everything within walking distance. I can gladly recommend.
Very good location in central historical Brasov and next bus facilities to reach Poiana brasov and other places of interest. Very friendly and helpful staff. Clean and safe, at least in the winter season. Breakfast included.
The hostel is close to the city center and main attractions. The rooms are spacious and airy plenty of room to relax and move around. Beautiful gardens.
They have a spacious garden where you can bbq and lounge around. They also have a fully equipped kitchen for indoor cooking. Plenty of washrooms. Very clean hostel.
Lieux d'intérêt pour les visites touristiques Brasov, Rasnov, Bran, Sinaia et Zarnesti qui est situé dans la section dépression Zarnesti-Baraolt, au pied du Parc National Piatra Craiului, c'est un bon point de départ pour les voies d'escalade et de randonnée dans le massif. Chacune de nos chambres à l'auberge a une vue sur la ville ou la montagne.
Située dans la vieille ville de Brasov, notre auberge est proche d'un marché, d'une banque, d'un bureau de poste. Toutes les attractions touristiques de la vieille ville de Brasov sont à distance de marche de notre auberge. Notre emplacement centrale dans la vieille ville nous permet d'être à proximité de tout à pied.
Fabulous staff!
I stayed in a four bed rooms With no ventilation. During the winter it may not matter but in summer was terrible.
The hostel was extremely central and it was the best breakfast I have had in a hostel, I hadn't expected of either so it was a nice surprise to have omelette and ham rather than just cereal or bread and jam. The hostel was clean and the staff were friendly.
Great location, helpful staff/
Anna was extremely helpful during my time here. She was kind enough to teach me some Romanian and makes a very good omelette. The location is perfect, 1 min from the Black Church and Main Square. The dorms are spacious and the beds are comfortable.
Very nice and friendly staff,helpfull. Always ask if everything is OK. Good location. Clean bathrooms. Made us breakfast in the morning (omelette). Stabil beds. The owner gave us a the room cheaper because we didnt have the right money.
Clean. Staff was helpful. Good location and value. Wifi was good. Lockers provided.
Nice hostel, the rooms are really large and its in a great location.
Location was fantastic! Staff were very helpful & the place was always clean.
Very friendly staff and very clean.
one word "FABULOUS" LOVED THE ATTENTION/ SUPPORT BY STAFF AND MANAGER,TERRIFIC SITUEATION,NO COMPLAINTS AT ALL. WOULD BE KEEN TO RETURN AGAIN, A REST FROM THE HUSTLE AND BUSTLE THAT CAN BE EXPERIENCED IN SOME PLACES, DESERVES CLOSE ATTENTION IF YOU ARE COMING TO BRASOV.
A good hostel overall, especially for Romania. Everything was very clean and home like. It's fairly small so there's no industrial feeling of rows of bunk beds.
A very friendly welcoming hostel, with a lovely breakfast
Excellent place with amazing staff
Lovely, comfy beds with proper linen and big fluffy towels. The staff were friendly and helpful, and the omelette for breakfast is a v nice touch! Felt like staying in someone's (clean, modern) apartment
Hospitality and service of owners. Hot breakfast in the am. Location. The fact each bunk had 2 plugs, a reading lamp and a locker. Nice linens, not the crappy cheap kind you find in most places.
Great location, very clean, staff was really helpful.
Very helpfull staff...
The owners are kind and attentive, breakfast was excellent (Claudio's mother makes great omelettes), and the hostel was exceptionally clean. Plus, its absolutely i the heart of Old Town, hjust steps fro the Black Church and main square.
I can't begin to say enough great things about this place. The owners are unbelievably kind and knowledgeable about the area. They offer an awesome breakfast with eggs, ham, fresh bread, coffee and tea and are in the ideal location to eat, enjoy a glass of wine, and to see all that Brasov has to offer. I did a very last minute booking which I subsequently extended one more day and the owners were beyond welcoming. My last day I was attempting a solo hiking trip in Sinaia and they offered me a place to come back to should I have any problems. I look forward to a return trip!
The location is superb. Walk out the door and you are about 2 minutes from the black church and the city center of old town. You can walk anywhere from here aside from the train station. But if you stay near the train station you wont be by any of the cool sights in town. The staff was awesome too, picked me up from the train station and brought me right to the hostel. Good breakfast every morning. When I was there in May I was the only person staying there so I had the whole place to myself. It was like I had rented my very own apartment in the heart of the city.
- Great location! Easy to find and everything is right next to the hostel. - Good breakfast with eggs cooked right when you come in :) - Friendly staff! - Very clean facilities and nice common room for chatting and meeting other travellers!
great location right in the centre and easy to find. Comfy beds, clean dorms and great showers. Gabriel is really helpful, his mother is adorable and breakfast is great!
Excellent. Breakfast was great and the owners were very helpful.
Gabriel, the owner is great, the hostel is more like a very nice and modern apartment. Kitchen is very nice, common area very nice as well. Plus free hot breakfast in the morning!! And location can't be beat.
A great hostel! A real "homey" feeling, extremely helpful and friendly staff, and very clean. The dog is wonderful to!
The staff was great and the location was great as well. Everything was spot on!
Really enjoyed our stay here, great rooms in a quiet area but easy walking distance to main sights. Would definitely choose to stay here again.
Awesome
Great amenities, friendly staff. All around a very strong offering.
everything
Very clean, nice and helpful staff
This was one of the best hotels I have every stayed in!! The staff was fantastic - they helped me so much planning my travels, they were friendly and cheerful and instead of just giving your keys like in most hostels, they even take you up to your room and show you around (completely unlike some huge hostels which are super impersonal - it is always these small things that makes a huge difference). You get to borrow a fresh towel, free drink for every night you stay there, tea & coffee the whole day for free, very clean and breakfast is included - cereal which they leave there the whole day so it is fine if you only wake up at lunch time. I could even borrow a hairdryer! Can highly recommend this hostel!
My room was very clean, with a very sleepable bed, tables, hangers and overall very comfortable. The bathroom was clean and sparkling. The reception staff were friendly and also seemed very capable & knowledgeable. I especially liked the excursion to Bran, Rasnov and Peles ... not easy to do all those places on public transport, and the driver was a very nice guy. They have a sweet & friendly dog living at this hostel; this may not be the place for those with a dog phobia however.
Very nice staff, room was ok.
The staff were friendly with lots of information to give us, and helped us to organise some cheap trips to nearby sights. The breakfast was fine, and it was nice to have free drinks each day.
Social place, Free beer or drink on arrival & staff are always happy to help. Good value for money
Met some really fantastic people here, the outdoor terrace was a nice addition. One of the female staff members was so lovely
They do not throw you out, even if you leave later. Cheap Includes free wifi in everything, EVERYTHING, the hostel Good kitchen
The dorm room was huge and had a large secure locker per person, extra hanging space, chairs, a table and a mirror. There however was no lock on the dorm room door. The kitchen was well equipped and had a large table and plenty of seats. The drink coupon (one per day of stay) was great and you could choose from water, soft drink or beer. The staff were pleasant and friendly.
Very Central Really friendly staff Opportunities for trips around the surrounding area
-nice decor (it used to be a restaurant), feels like cosy countryside house, you can sit outside and relax -great atmosphere -the owner is very nice person, perfect location for summer:) -coffe for breakfast is great -perfect location
Staff were friendly and knew their stuff well, and also the free daily drink was a gimmick that is greatly appreciated as well. Also the area around the hostel was quiet and peaceful at night, and the rooms were tidy and neat as well. Additionally there was a big leisure and entertainment room for our use.
Really friendly staff and dog.
it was quite a homely hostel. not the most exciting atmosphere but quite cosy
Very helpful staff. Free daily drinks from the fridge.
Great hostel excellent staff would stay again!!!
Really helpful staff, lots of showers and toilets in the basement, nice kitchen to use, computers with internet free of charge, welcome beer, a nice common room to meet other travelers
Staff are amazing, the place is really relaxed and it has a kitchen and great chill out areas. Great for meeting people, relaxing, and info on whats around.
Clean, good location, lots of common areas and the kitchen is awesome!
Alors que vous êtes au centre de la ville de la Couronne de Brasov, il existe un large éventail de sites et d'activités qui peuvent être appréciés lors d'une journée de voyage, et ce à partir de l'auberge. Nous avons fait équipe avec les conducteurs pour offrir une variété de transports à prix raisonnable et nous pouvons également personnaliser les voyages sur demande. Les excursions proposées comprennent: Demi-journée au Château de Bran et Forteresse de Rasnov, journée complète au Château de Peles, la Forteresse de Rasnov et le Château de Bran (avec visite optionnelle du Sanctuaire d'ours de Brasov).
The breakfast was very good and this hostel in well located in Brasov.
Hostel had a great breakfast and is well located in Brasov.
This hostel in Brasov is well located. It is clean as well.
Hostels
Situé dans le centre de Brasov, l'Edgar's Clown Hostel propose des chambres lumineuses avec une connexion Wi-Fi gratuite et une salle de bains commune. La station de ski de Poiana Brașov se trouve à 15 km.
Hostels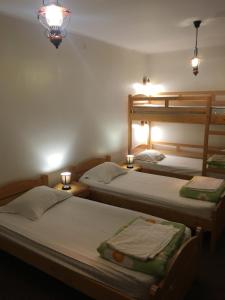 Old building , surrounded by historical monuments , quiet and comfortable place , nearby the Main Square where the most important media events are Live.
Hostels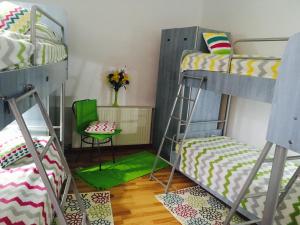 Situé à Braşov, à 15 mètres de la place Unirii et à 7 minutes à pied de l'Église Noire, le Rolling Stone Hostel vous propose une connexion Wi-Fi gratuite, une réception ouverte 24h/24 et une bagagerie.
Propiétaires et gérants
Enregistrez maintenant votre auberge sur notre nouveau Extranet.