L' auberge A & O Hamburg City bénéficie d'un emplacement central et de très bonnes connexions avec tous les transports en commun. L'arrêt S + U-Bahn "Berliner Tor" (S1, S2, U2, U3) se trouve à seulement 3 minutes à pied de l'auberge. La gare principale se trouve à 20 minutes à pied. Grâce à son emplacement central, l'A & O est idéal pour accéder à tous les moyens de transport public et constitue un excellent point de départ pour les excursions dans la ville d' Hambourg.
Notre auberge dans le centre-ville de Hambourg bénéficie d'un emplacement fantastique, avec d'excellentes liaisons de transport public vers toute la ville, y compris la gare de Hambourg-Altona à proximité. Si vous venez et restez, n'oubliez pas de visiter le Fischmarkt, la Philharmonie de l'Elbe et le quartier Sternschanze avec tous ses restaurants et bars chics.
Despite a small problem at first, everything else was impeccable. The dorms were niquel and for a very affordable price. In addition several activities and services are offered in the hostel. We are a real little jewel for all globetrotters wanting to make a stopover.
Auberge très bien placée, draps et serviettes fourni sans supplément . Personnel sympathique . Le seul hic reviens aux personnes de la chambre, pas respectueuses, nous n'avons pas bien dormi et la chambre était sale ... Le reste était parfait !
This hostel is big and it is easy to meet other backpackers. Breakfast okay too. I recommend.
This big hostel is close to Berliner Tor station. It has good WiFi.
La estancia fue muy buena
The property is very good located and easy to find. We had a family room, it was comfortable, clean and good equipped (toilet and shower were separated, three mirrors, lockers for every person,...) The breakfast buffet was big, and had all we needed.
good location, many offers
Belle auberge
Our room was really clean and even though we had booked beds from 8 bed dorm we ended up having the room just for ourselves. Staff was really helpful and lots of facilities.
Clean, spacious
Clean rooms, nice staff, everything allright!
Staffs are great and helpful. Rooms are basic but it's all you need. The shower could be better but it's still good.
.
The rooft top terrace is amazing!
Très bon positionnement (transports, visite). Un peu
Great value for money
It was clean and also close to the city center and I could get easily to the airport from there so I was highly satisfied!
there is entertainment games in the lobby
Great
All OK
-
Living in a shared room of 8 beds, it rather spacious and nice with wooden floor and such. Also has a private bathroom and separate shower!
The room was very nice and clean.
Only 15 minute walk to the town.
Very close walk to a tube station, large rooms
Very attractive price for an hostel that close to the center.
It has many facilities to offer
je le recommande aux voyageurs à petit budget
good public transport
VERY nice room, bathrooms, and common area, cool book exchange, nice looking breakfast (if I had actually been able to try it), friendly staff, cool display about historical location
Everything was just great ,atmosphere , people around , very crowded place. Stuff is friendly and helpful , just I dont know why to pay for Bed sheets 3 euros , if they are actually in the room. Also there is some tourist payment , which was not mentioned before
The Hostel is just as it says - a hotel/hostel. For that reason, the atmosphere is quite cold and difficult for solo travellers. The Dorm rooms were large and super clean and having a bathroom and toilet for the room is super handy. Id recomment this hostel for groups rather than solo travellers or pairs.
One of the cleaners stole my crate of beer. One of your barmen retrieved it from him
I recommand it
Nice
Very clean and tidy and welcoming
Very helpful and nice staff. Everything was modern and clean.
Location wasn't too far out of town, could catch the train easily enough and there were a couple of supermarkets nearby. Kitchen had everything and was clean. The staff were great with advice and friendliness. All in all a nice place to stay and see Hamburg.
Very welcoming and helpful staff. All rooms and communal areas clean and modern. 24 hr bar, 24 hr pool room. Exceeded expectations.
Great hostel, stayed for a stag doo and it had everything we needed. Rooms are comfortable and big.
It was clean and the staff were really niceand welcoming
Convenience and the staff.
Rooms were spacious. Very modern looking. Breakfast was actually pretty good even though you have to pay extra.
The atmosphere was calm, the rooms are clean, beds comfortable and the rooms have private bathrooms.
Good luggage lockers in rooms, nice linens provided. Staff were very helpful and nice.
Nice and clean rooms with bathroom and toilet
The hostel was very well run, clean with excellent dorms.
Good staff and free laundry!
I stayed in the 8 bed dorm. A big room with a separate toilet and bathroom. Modern and clean. Linen is included in the price which is rare for Hamburg.
This place is like. Five star hotel rather than a hostel, the place is beautiful, clean, fairly helpful, and secure but you do pay for it with the price. Stay in another of this chain and get 5% off. They will not offer this up front.
everything
Cheap. Good, clean private bathrooms.
Comfortable beds.
It was ok.
The hostel was nice and clean and had a really nice and helpful staff. It was also convenient having the hostel bar because it made it easy to meet other people. I was pleasantly surprised overall.
Very clean. Big spacious rooms. Separate toilet and shower in the room (8 people mixed dorm) Lockers available in room - though remember to bring your own padlock. 5 mins walk to S-bahn, 2 stops from Reeperbahn.
Really good kitchen facilities with a free food section. Rooms were clean and of a hotel quality. Walls were thick so we couldn't hear the students in other rooms.
Clean, close and comfy
Clean, comfortable and great value for money.
Le générateur Hambourg est dans le centre-ville et très bien desservi, près de la gare centrale (Hauptbahnhof). La région du port de Hambourg a grandi dans un esprit d'aventurier- vous respirerez le vent de la mer du Nord, offrant de l'air frais en hiver et une brise rafraîchissante en été. Vous êtes à proximité de nombreuses attractions, restaurants et bars que vous pouvez sortir de l'auberge aussi et en profiter.
L'A & O Hamburg est situé à 500 mètres ou à une seule station de métro de la gare centrale. Grâce à son emplacement central, l'A & O est facilement accessible en voiture, en train ou même en bus et se trouve entre Speicherstadt et Binnenalster. Un point de départ idéal pour des excursions en ville!
Very big youth hostel with many clean dorms, toilet and shower rooms are tiny. But 2 spacious bathrooms in addition per floor. Relaxation area, tables on the ground floor. Wifi, bar, possibility of breakfast, lockers, ATM, laundry and many other services.
Hostel in Hamburg near the central train station (HBF). USB in each bed and good wifi.
Good location hostel in Hamburg with friendly staff. There is a good bar too to meet other backpackers.
No estuvo mal
Location and front desk staff.
It's very well located and has a bar inside
Great, we can do this again
Location, Room and Services
Location is great, staff was nice, place has good esthetics! Clean and nice and smooth. Felt like a hotel, no hidden costs! Linen included and such.
The location was central. The beds had lights, power and USB points.
It was very clean and new, more than I expacted, easily found very close to the Main Station. Very safe system, good service for food, entertainment and luggage store after chceck-out - so that I could leave luggage there for several hours before my train was leaving. in the room there was possible to hire a lock for wardrobe to keep your personal valuable things in safe. each bed has its own electricity, USB charger, mini light.
very easy to find, nearest hostel to the Hamburg Hbf/Zob. Even there're lots of visitors, the hostel keeps clean and the staff always smiles and were patient.
convenient location near the city center/subway/train station yet quiet enough
very short walking distance to train station, perfect for overnighters
location, staff, interior design, atmosphere
Close to the main station and places of interest
Generator is a great hostel! Location is perfect, just near the Hauptbahnhof. The Room was clean and comfortable. Staff is friendly. In the evening there is a good Programme in the bar.
Nearby, 24h checking, it has a electric socket by the bed
It's just like every generator hostel, really clean, safe feeling and a pretty friendly staff.
Generators are always good - clean, hot shower, love the light/powerpoint/usb ports at each bed.
Easy to reach from the main trainstation, room clean, cool amenities and vibe
very friendly staff, very soft cushions
Great location just next to the railway station, nice atmosphere
The bedroom was pretty clean, and the beds are really confortable. The bathroom was also very clean! The commun room is really nice, quite easy to meet to new people. The music and ambiance are good! It's just beside the train station and bus station, which is fantastic!!
Great common areas to hang out. Very clean everywhere. Security from the afternoon into the evening at the door. Very convienent location next to the main train station. Well priced snacks and beer. With the windows open it got a bit loud at night as we were right above the outside area off the bar, but closing the windows made it silent.
Location
Clean, good location (less than 5 min walk from train station) and security
Really close to main train station and city sights
The location of the hostel is perfect. Just by the hbf in the center of the city. It was clean the beds were comfortable.
It was a nice clean Hostel, pretty central.
nice rooms but unfriendly staff!
Good hostel
Fun, quirky, reasonable, exciting, friendly, excellent, interesting, inviting
it was easy to meet other backpackers. The location of this hostel in Hamburg is good.
This hostel in Hamburg is alright. Nice atmosphere and staff.
Très bien
Bien
Accessible from quiet a few locations
I was first given a room with a non-functioning bathroom light, the window could not be closed, and it stank. I complained about it, and they gave me a bed in a 4-bed room on a Monday night, and I had the room to myself.
It was very easy to find and close to the Haubtbahnhof. Room was spacious.
15-minute walk to the city centre The toilet in the room is clean and with good facilities
The location
clean nice place. 24 h snack bar good. bit hard to find with the instructions
Proximinty to U-bahn station. Cheap dorm rooms
German precision in everything, just asexpected. Totally satisfied!
The lower rooms are very noisy. The first room we were given was minute.
Friendly and helpful staff
The room was spacious enough for 4 people. Free bed linen and towels were provided on request. The room, bathroom and toilet were also clean. The hostel felt safe.
I stayed in a single room. It had a hand towel, a bath towel, a hairdryer, and a TV, which is very helpful. The room was warm and cozy.
It was perfect for a group of mates wanting to celebrate the New Year taking in Hamburg's nightlife. We were in a 'dorm' but it turned out we had our own rooms. No questions asked coming back late. No apparent problems with security.
nothing
Free WIFI, a Bar where you can get snacks and pizza, very helpful and friendly staff!
close to hbf
location
Good location, clean simple rooms. Very helpful staff.
...
Seemed like a fairly modern hostel.
Enkelt och nära Hauptbahnhof för en rimlig peng. Personalen hjälpsam.
location
Sehr sauberes und komfortables Hostel. Für kleine Gruppen und Kurzreisen genau das Richtige wenn man viel in der Stadt unternhemen möchte. Als unkomplizierte Schlafmöglichkeit optimal.
Cleanliness and best Location and Atmosphere
Hostel is really in the center of the city.
L'A & O Hamburg Hammer Kirche se trouve dans le district de Hamm-Mitte. Le centre-ville est accessible en quelques minutes et la gare centrale n'est qu'à trois stations de métro. Ainsi, l'auberge est facilement accessible en train et en voiture et vous offre un point de départ tranquille pour des excursions dans la ville .
Plus au centre impossible! L'A & O Hamburg Reeperbahn possède le meilleur emplacement, au milieu de St. Pauli. Juste à côté de l'auberge se trouve une station de métro intra-ville et souterraine, ainsi que les quartiers branchés tels que Schanzenviertel, Altona et Hafencity, facilement accessibles à pied. La gare centrale est à seulement quatre arrêts de train intra-ville.
The welcome to our arrival was not very kind. The girl did not mind hostel. She showed that her job did not please her much. Otherwise, the rooms were nice and comfortable. Alas no kitchen available to prepare a meal after a long drive.
The staff was friendly and it was easy to connect with other backpackers.
This hostel is Hamburg is a good value for the price you pay.
Freundlich, gut und bequem
It was very close to a u-bahn stop, which was convenient. The staff was very nice and helpful with directions.
clean and well supplied
This hostel was perfect as it was in walking distance from the tube station and very close to the city centre. The area is very friendly and the staff are both friendly and helpful. The room itself was very clean and very good quality for the money.
We accidentially booked the wrong date, but they were able to change our reservation without any problems
I am very thankfull for the flexibel service in connection with booking and changing of requests. We meat a great patience and kindness from the receptionist at the check-in. All in our group were very satisfied with the stay - the rooms as well as the breakfast and the service. Thank you for a pleasant stay!
Nice, clean hostel quite close to the city.
it was nice and clean
Good location. Very easy to be found, near the metro station. Friendly staff and very helpful. They were honest and everything went as planned. Fortunately, there were no unpleasant surprises.Lastly, it was very clean and value for money.
Was clean, the rooms were very large
No issues
very clean, well lit, nice common area, close to lidl
Close to the metro.
Clean and nice hotel, almost looking like hotel. Price for staying is really ok, allthought you have to pay extra for carparking, using internet, breakfast and so on... Staff was nice and location was good.
This hostel was amazing. It's not that far from the city centre (only 2 U-bahn stops from Berliner tor) and it's situated in a nice residential area. The hostel was very clean with modern refurbishment. Bathrooms are shared with only 4 people in the worst case. And all the staff (reception, kitchen) is very, very friendly.I would recommend it warmly. Did I mention it was every good value?
It is a really new hostel.
quiet and cosy
The location is central, only 5 min to U-bahn station and 8 min to city center. The breakfast is also good, and the room is clean.
Very nice place to stay. Not in the center but can be accessed easily by underground during the day and buses during the night. There is even a night bus from St. Pauli. The rooms are clean, well equiped, each of them has shower, wc, tv etc. The breakfast buffet is also very good. The staff was also helpful. Very good value, can recomand to everyone!
Good shower in room, breakfast good, place was clean.
Provided towels
Good Breakfast
Having the toilet inside the room itself. Having towels and a hair dryer provided. Relatively cheap coffee for sale at the counter. Safe location in residential area. Very good price.
The hostel has a hotel attached which makes it feel more like a hotel, there wasnt a hostel vibe what so ever!!!while I stayed it was full of families an locals so didnt get to meet many other travlers.
No parking
ShowerCleanliness of the hostel
The neighborhood is very badly placed (between sexshops, and it is the neighborhood of anarchists). I advise against hanging out at night. Also, the room is very old, no sockets, very uncomfortable bed. We had to change rooms, which was a little better but it was still not that. In short, I really do not recommend! And I am very disappointed.
We made a reservation on this webpage in October for our stay in A&O Hamburg (St Pauli) in January. The webpage dictated that two private rooms for 4 people each had the surprising price of 140 euros, however, when we arrived at the hostel, the reservation they had was for only 2 people. So, we had to book another room for more money and already occupied and, besides, we couldn't stay saturday night because it was full. All in all we had to find another hostel ourselves which had available rooms for our group, (we were lucky bearing in mind it was weekend) The former hostel wasn't helpful at all, in fact, they couldn't care less. We think the hostel should look at the webpages from time to time and verify the information given there, so as to avoid this predicament.
This hostel is good for the price you pay. I recommend because this hostel is cheap and has good location.
This hostel has very good prices. Located in the center of Hamburg so practical.
Bon établissement
Muy bueno
Albergue que cumple sus expectativas
The hostel had everything we needed - WIFI, good showers, access to computers, bike hire and breakfast at an additional cost.
Everything met our requirements, staff very friendly and help ful
location
Very cheap and very good location
A very good location.
Never ever again
Hat sich den Namen verdient
Preisgünstig und leicht erreichbar
Big rooms, nice beds and own bathrooms. Free sheets and towels.
Dorm rooms were a good size and it was close to the station.
Location is brilliant, price is good!!
It Had Games room.the staff were good and it is great location
Just the Location
It's pretty cheap for Hamburg, except the breakfast is over priced. The night staff were friendly enough and the rooms were very clean. I would have stayed longer, but it was full.
We wanted to stay in the heart of St. Pauli and this hostel, located next to "Große Freiheit" and the famos "Ritze" offered all the party we wanted to have. It was also nice as the Landungsbrücken, the harbour city, Speicherstadt and the Alster are available easily by metro or even in walking distance.
The room was nice enough (twin, private bathroom)
They had a hairdryer in the room bathroom, not all places do :)
Spacious rooms, very helpful staff. Great location close to the metro station. Great area for night life.
Great location. good staff. good service
Location and friendly staff
close to everything
Good atmosphere and a hub for interrailers and other assorted travellers.
It had been cleaned very well before me. It is very near to s-bahn station and this makes it easily available from hauptbahnhof (train station) and flughafen(airport).
Good location and cheap. I felt safe leaving my car in the parking spot.
Fairly inexpensive for a double room
good location and nice staff... i really liked that hostel..easy to find..
friendly staff, good breakfast, good location
LOCATION AND PRICE
Hostels
Le Paulibude est une auberge de jeunesse proposant une borne Internet gratuite et des chambres à thème colorées, installées dans plusieurs bâtiments.
Hostels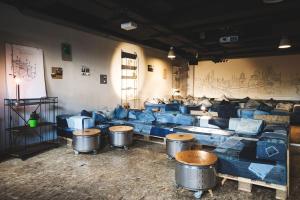 Située à 1 arrêt de train de la gare centrale de Hambourg, l'auberge de jeunesse Superbude Hotel Hostel St. Georg propose des chambres colorées dotées d'une télévision à écran plat et d'une connexion Internet gratuite.
Propiétaires et gérants
Enregistrez maintenant votre auberge sur notre nouveau Extranet.