L'auberge Mancini Naples est à seulement 5/10 minutes à pied de la gare centrale de Naples (Stazione di Napoli Centrale) et à seulement 3 minutes de la plus célèbre Antica Pizzeria da Michele. Aucune autre auberge n'offre un meilleur accès aux transports menant aux sites touristiques les plus célèbres de la région. Mont Vésuve, Herculanum, Pompéi, Sorrento et Capri, Ischia et Procida ! La plus célèbre Pizzeria da Michele se trouve à 3 rues de l'auberge. Grand supermarché à côté. Réception 24 heures sur 24
En 5 minutes à pied, vous pouvez rejoindre la station 'SITA' qui mène à Pomepi, Sorrento, Positano et la côte amalfitaine. Derrière nous, le Palazzo Reale de Castel Nuovo, la Piazza Plebiscito et la Galerie Umberto sont les endroits les plus populaires ; comme la Piazza Municipio, à partir de laquelle vous pouvez accéder à la station de métro et obtenir une visite guidée gratuite La propriété est à environ 3 minutes à pied du Maschio Angioino, à 600 m du Palazzo Reale Napoli et à 600 m du Théâtre San Carlo. L'établissement propose une réception ouverte 24h / 24
So close and easy to get from Napoli centrale!! + balcony in the rooms!!
Staff was so helpful and friendly, particularly in helping me pick a tour. The free breakfast was pretty good too!
Very secure. Right next to main train station. Staff was so nice and helpful. They know everything about Naples and other locations for day trips, and will give you detailed directions on how to do things right and save money. The place was very nice too. Clean and decent facilities.
The hostel is conveniently located in downtown with the station at a walking distance (5 minutes) The breakfast is free and self service, there is coffee with milk, roast & toast with cherry jam or butter, but no orange juice. Lockers are available for free, you find them inside the room, but the staff doesn't provide padlocks, you have to bring your own padlock.
I really liked my stay here. everybody was really nice and helpful. It's close to the station to go to oompei and also to the attraction of napoli ( you don't need public transportation). I would come back again For sure.
Kitchen area, good location (right near to train stations) and friendly, helpful staff.
It was nice and close to the station. The staff were helpful. Breakfast was nice. Room a decent size.
I liked the fact that it was close to the main station which helped get to the main sites of pompai etc easy. The staff were friendly. Patrick was a great find for the hostel. full of information and good for a chat. Breakfast was good each morning.
Good location. Great staff.
Nice staff, helpful, and they even cooked pasta :)
The price was good, the location wad good being right near train station.
The staff was unbelievably helpful! Alfredo gave us great advice and we loved our trip! :)
Everything was very clean, people were helpful, very close to the train station and the owner makes some great pasta on Saturdays.
Great value. Breakfast is included (and it's actually a pretty good breakfast too). Very close to the train station, so perfect for day trips to Pompeii/Herculaneum/Sorrento. The receptionist was very friendly and they have a lot of information on the surrounding area. Free public internet is a big plus if you don't have a wifi device. This place would be perfect if the surrounding neighborhood was a little nicer.
Close to the trainstation, easy transport to pompei, and to sorrento. The guy who checked me in, gave me a map over the city and gave me a route to follow to se the city.
Very friendly staff, great breakfast (with the biggest Nutella jar I have ever seen in my life;-), clean, comfy beds; spacious lockers in the room (bring a padlock - but they can be bought at the hostel as well); the neighbourhood is a bit dodgy but very handy cause really close to the train station / airport bus drop-off. The hostel itself feels very safe.
Good location and staff are kindly tell the info
Very friendly hosts, recommended things to do and see which was great, good atmosphere and centrally located
The staff was very helpful, breakfast was OK.
Super close to train station. Helpful staff.
Location is excellent Staff very friendly and helpful Security comfort free breakfast
The mrooms are nice, the bathrooms are big and are modify for wheelchairs, there are lockes in every room one per guest, it is very close to the train station, there is a supermarket across the street The staff is very freidly and they speak english and spanish, the old man who works in the morning looks a little crazy but he's very nice and interesting to talk to!!!
The service was great and knowledgable about what to do and see wether you're a young person trying to just see as much of the city as possible or older and want to see museums, the service knew deals and best routes on what to do.
Everything. The owner Alfredo and his family are the best. Super friendy and helpful
This place is a real find! Although it is located in a bit of a bad part of town, I never felt unsafe! The staff are amazing and they make sure you never have any problems! The free breakfast is basic but pretty good. It was a really nice homey atmosphere! We had pasta cooked for us for free one night which was followed by a chocolate Bavarian for dessert! Across the road from the useless is a little pizzeria which does a massive pizza and a drink of your choice for only €5! This really is the best place to stay!
The hostel managers welcomed us, but our room was not clean: sheets with stains, presence of BED PUNCHES, soil not very clean, bathroom either: rest of other products Residents (although very convenient that she is in the room), the beds were damaged.
Our experience in the hostel has been quite bad, the night we arrived they had no record that we were going to stay there, they put 11 people in eight beds for three days, they did not know what number of days we stayed or what we had paid for the reservation, to top one of the days we put in our bathroom a line with clothes to dry, which they had to remove as we realized about it.
Don t go there. The place is very dirty. My bed collapse on my roomate during the night. This hostel is full of bed bugs my body is full of button now. The staff is not very sympatic. During the night one of the staff fight with someone during 1 hour nobody could sleep.
Good location
Central and nice hostel
Notre auberge est située à proximité du centre-ville de Sorrento et depuis notre auberge, il est facile d'accéder à de nombreuses plages ou lieux touristiques, comme Pompéi, le Vésuve et la côte d'Amalfi.
L'auberge de jeunesse est située dans un quartier typiquement napolitain et est facilement accessible par bus, train et à seulement 15 minutes à pied de la gare centrale Garibaldi. Nous vous garantissons les meilleurs prix en dortoirs, la wifi gratuite, une grande terrasse et un jardin. Notre personnel multilingue fera de son mieux pour satisfaire tous vos besoins et vous donnera de bons conseils pour visiter la ville exubérante de Naples.
This hostel is close enough to the train station. Friendly staff.
This hostel in Naples has a very rooftop where you can enjoy the views. Clean hostel dorms as well.
Good breakfast. was pretty clean in the rooms.
Great stayed
The dorm rooms were really nice - modern looking and the beds were comfy. There were massive lockers in the room that fit my huge backpack with extra space which was great. The free breakfast was the best I've had. Also the air conditioning was AMAZING. Also the staff were friendly, especially the guy with glasses who was on the desk quite a bit was so patient and helpful.
Beautiful location and lovely views from the rooftop. Very well maintained and cleaned. Also very comfortable.
One of the best hostels I have been. On the roof top there is a nice view on the coast and a cool possibility to sit down
Though i stayed 12ppl dorm, the room was enough to share with. And staff are helpful like when i need some info or timetable of transportation they gave me printed papers. Breakfast was ok. Better than nothing. And its quite far from Sorrento downtown but this hostel is valueable for money. :)
Beautiful hostel for very little money. Felt more like a hotel. Great wifi and transport into Sorrento.
Very well!
Excellent hostel in every way
Liked that there was plenty of space to relax and in rooms, staff were very kind and friendly, food and drinks were a very god price and they feed you well. Security for rooms very good, each bed had a personal locker. There is also an amazing view from the rooftop, which is a great place to chill.
I loved how spacious and modern the rooms were. The bed was extremely comfy and it had its side light. The lockers were huge. The upstairs terrace was amazing and the views thanks to location were even better. The hostel had a little posh feel about it but the price did not reflect that.
Nice hostel in general. The patio is great
BEAUTIFUL ROOFTOP TERRACE!!! And it's very large and hardly used! Good restaurant and cafe around the corner. Close to sorrento. Friendly locals.
Location and sun terrace on roof
El hostel esta muy bueno. Limpio, y nuevo.
Facilities were good, breakfast was generous and fresh. Staff were generally helpful, although we encountered some very unhelpful staff. We were able to leave a bag securely for a few days while we were on a short excursion. Location is quaint and surrounds are quiet
Friendly and nicely for everybody
Amazing atmosphere but quiet, large common area and bar/restaurant, rooms are large and clean, lots of showers and bathrooms, personal outlets and light at every bed, lots of opportunities for excursions where you are picked up right from the hostel, close to train station
We liked that it had spacious rooms, big lockers, cheap food, and air conditioning in rooms.
7Hostel was fantastic. I was there for 2 nights while traveling southern italy. It's very close to the beach and Sant Agnello train station. It was clean and super nice staff.
It's beautiful! View is incredible from the roof terrasse (there's a roof terrasse!) and everything is clean. Of all the hostels I stayed at, this one was the most like a resort. It was a nice break from the dirty bedsheets and sketchy business from some of the other places I went to. The staff are helpful but not really friendly. There's inexpensive dinner available from ~6pm to 10pm. Wifi was so-so, but functioning for the most part. Location was really nice; right next to a lemon orchard! Less than 10 minute walk to Sant'Agnello train station, which is one stop from the center of Sorrento. To walk it is approx 35 min. Did not have a problem with mosquitos.
It's very clean and quiet. The staff is very friendly and helpful
Clean. Lots of people. Good set up.
-nicely renovated old monastery, very stylish
Staff were very friendly and helpful. The rooms were clean.
It's huge. Very spacious room.
Have breakfast
It has been on of the best hostels I have been to.
Well located in Naples for access to transport (central station and airport, ideal if you have an early flight - you can walk there). A bit eccentric for the visit of the city this says own dorms Opportunities of the social: dinner offers every evening and excursions in the surroundings are proposed: Pompeii, SALERNO, etc.
The proposed activities allow you to meet other people staying at the hostel
Like family, amazing hostel
The best hostel!
Very nice
Amazing place to stay.
Great experience in this hostel. Great meeting. The free breakfast is good. The evening meal is offered in exchange for the purchase of a drink (1 € 50). A warm welcome.
Hostels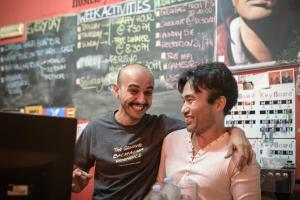 We have every type of accommodation to fit your needs, from dorm rooms to private doubles with ensuite bathrooms. As soon as you arrive at Hostel of the Sun one of our staff will sit down with you and explain...
Hostels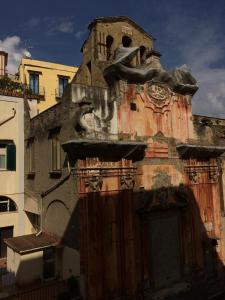 L'établissement La Controra est un ancien couvent avec jardin, transformé en une auberge de jeunesse sympathique, dans le centre de Naples. Ses chambres sont équipées de la climatisation.
Hostels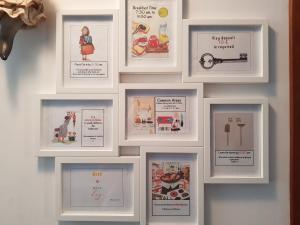 Hostel Mancini was founded in 1998 as the first independent youth hostel in Naples. It is called "Mancini" because it's located in the famous square Piazza Mancini, the one behind the statue of Giuseppe Garibaldi. Hostel Mancini is not very...
Hostels
Situé à Naples, à 600 mètres du Maschio Angioino et à 10 minutes à pied de la place Piazza Plebiscito, le NeapolitanTrips Hostel & Bar propose un hébergement avec une connexion Wi-Fi gratuite dans tous ses locaux.
Propiétaires et gérants
Enregistrez maintenant votre auberge sur notre nouveau Extranet.